The adventure bike segment of the motorcycle market has exploded in the last decade, much like sport utility vehicles (SUVs) have done for cars. Apart from looking cool, the popularity of adventure motorcycles is due, in part, to being more comfortable and being able to ride equally well on tarmac or dirt.
While nothing comes close to test riding a motorcycle yourself before making your final decision, it is worthwhile doing your research on the differences between the many models available. It can be difficult to find comparisons between all the major adventure bike models in one place, so I've decided to compile all my research into this one article.
This is not a review of each bike, but rather an overview of the main specifications and features of the most popular big and mid-sized adventure bikes. Which one is best? Well, that will depend on what you want to use it for, the conditions you are riding in and most of all… your personal preference. At the end of the post, however, I disclose my clear favorite and the reasons why it will be my next adventure bike.
Technical specifications of the 15 best adventure bikes
For the nerds out there, lets start with the facts and figures before a brief description, some pics and a video of each one below it. Just remember, the figures only tell half the story. On the road (or off) a different story unfolds, so get out there and test ride each one before you say goodbye to your money.
The first table shows the power and torque from the engine, as well as the weight of each bike (with fuel and oil where possible). I've calculated the power-to-weight ratio too to make them more comparable.
I've highlighted the best and worst for each variable.
| | | | | | |
| --- | --- | --- | --- | --- | --- |
| | Price | Power (hp) | Torque (lb-ft) | Weight | Power / Weight (hp/lb) |
| BMW R 1250 GS Adventure | $20,195 | 136.0 | 105.0 | 591 | 0.23 |
| BMW F 850 GS Adventure | $14,445 | 90.0 | 63.0 | 538 | 0.17 |
| Ducati Multistrada 1260 Enduro | $24,495 | 158.0 | 94.0 | 560 | 0.28 |
| Honda CRF 1100 L Africa Twin | $14,399 | 100.6 | 77.4 | 501 | 0.20 |
| Honda CRF 1100 L Africa Twin Adventure Sports ES | $17,199 | 100.6 | 77.4 | 525 | 0.19 |
| KTM 1290 Super Adventure R | $18,599 | 160.0 | 103.0 | 529 | 0.30 |
| KTM 890 Adventure R | $14,199 | 105.0 | 73.8 | 464 | 0.23 |
| KTM 790 Adventure R | $13,699 | 95.0 | 65.0 | 448 | 0.21 |
| Suzuki 1050 XT | $14,799 | 106.0 | 73.8 | 554 | 0.19 |
| Suzuki 650 XT | $9,299 | 70.0 | 46.0 | 476 | 0.15 |
| Triumph Tiger 1200 XR | $16,500 | 141.0 | 90.0 | 563 | 0.25 |
| Triumph Tiger 1200 XCA | $22,000 | 141.0 | 90.0 | 594 | 0.24 |
| Triumph Tiger 900 Rally Pro | $16,700 | 93.9 | 64.0 | 489 | 0.19 |
| Yamaha XT 1200 Z Super Tenere ES | $16,299 | 112.0 | 86.3 | 584 | 0.19 |
| Yamaha XT 700 Tenere | $9,999 | 72.0 | 50.0 | 452 | 0.16 |
Weight is the enemy when riding off-road. Here are the five lightest adventure bikes:
The table below summarizes the suspension travel (front and rear), ground clearance and gas tank capacity. All very practical and useful attributes of a long-distance dual sport adventure touring motorcycle.
The last column shows the compression ratio. You'll notice the bikes with the most power have the highest compression ratios. While this is great for performance, an engine with a lower compression ratio will last longer and be less sensitive to the incorrect fuel and oil.
Suspenstion Travel
(front/rear) – mm
Ground Clearance (mm)
Tank Capacity (US gallon)
Compression Ratio
BMW R 1250 GS Adventure
210/220
n/a
7.9
12.5 : 1
BMW F 850 GS Adventure
230/215
n/a
6.1
12.7 : 1
Ducati Multistrada 1260 Enduro
185/185
205
7.9
13.0 : 1
Honda CRF 1100 L Africa Twin
230/220
250
5.0
10.1 : 1
Honda CRF 1100 L Africa Twin Adventure Sports ES
230/220
250
6.5
10.1 : 1
KTM 1290 Super Adventure R
220/220
250
6.0

13.1 : 1

KTM 890 Adventure R
239/239
264
5.3
13.5 : 1
KTM 790 Adventure R
245/245

263

5.3
12.7 : 1
Suzuki 1050 XT
160/160
160
5.3
11.5 : 1
Suzuki 650 XT
n/a
170
5.3
11.2 : 1
Triumph Tiger 1200 XR
190/193
n/a
5.2
11.0 : 1
Triumph Tiger 1200 XCA
190/193
n/a
5.2
11.0 : 1
Triumph Tiger 900 Rally Pro
240/230
n/a
5.3
11.3 : 1
Yamaha XT 1200 Z Super Tenere ES
190/190
n/a
6.1
11.0 : 1
Yamaha XT 700 Tenere
210/200
239
4.2
11.5 : 1
Next, let's chat briefly about each adventure bike model. I've ordered the bikes alphabetically in order to not discriminate against any brand.
#1: BMW R 1250 GS Adventure
The quintessential adventure bike, thanks in part to excellent PR, the BMW R 1250 GS Adventure is the first bike many riders think about when you mention adventure riding.
BMW has been manufacturing dual purpose bikes since the 1980's and so they have a lot of experience. Many love them, which is evidenced by sales figures. Charlie Boorman and Ewan McGregor's Lown Way Round and Long Way Down series are no doubt partly to blame. There are also many riders who believe the big 1250 GS's are overweight road bikes, too heavy for rigorous off-road riding and too complex to take to the far corners of the world without back-up.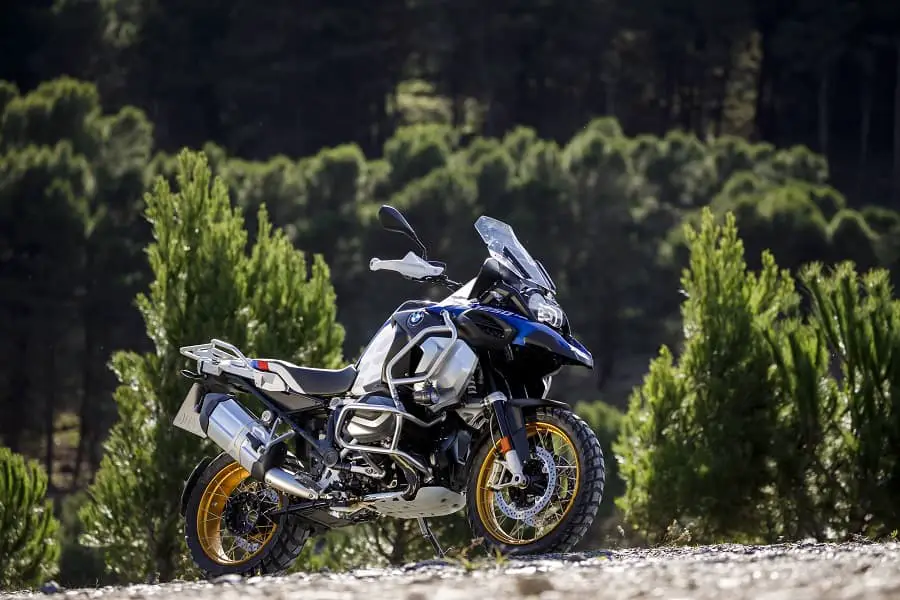 Love them or hate them, the new 1250 with it's variable valve timing (VVT) has more torque (105 ft-lbs) than any of the competitors listed below and, despite being the heaviest, it has an above average power-to-weight ratio only beaten by the, Ducati Mutlitstrada, KTM 1290 Super Adventure R and the Triumph Tiger 1200. The GS engine is just so smooth and the electronics (ABS, ASC and ESA) are top class.
As for all the other bikes, I've included the BMW R 1250 GS Adventure promo video below to get your adventure juices flowing.
Yes, they are big and fat. And yes, they weigh more than a garden shed. But if you've ever been on a big GS you'll know how it just shrinks underneath you when you start moving. I can distinctly remember my first ride on the liquid cooled boxer when it was first launched. The balance of the bike and the refinement of the engine is just incredible.
One thing that I don't understand is why BMW added VVT. There are already so many electronics that can fail on a cross continental trip. When your machine lets you down in a town thousands of miles from the nearest BMW dealership, you want simplicity rather than wizardry. VVT is just another such thing that would add to the list of things to worry about.
On the plus side, there's no chain to clean, lube and tension.
#2: BMW F 850 GS Adventure
The F 800 GS was BMW's answer to the riders who wanted to get their BMW's dirty. It is a lighter bike with longer travel suspension and a fuel tank under the seat for a better fore and aft weight distribution. The big downside was a minuscule 4.2 gallon gas tank. This was fixed in 2013 with the launch of the F 800 GS Adventure.
The upgraded F 850 GS Adventure has 5 more horsepower, but is more than 30 pounds heavier and the tank is now between the riders knees instead of under the seat which affects the center of gravity. Some shorter riders complain that the 850 feels heavier at standstill than a 1250 as a result of this.
On paper, the 850 is far from the top on all aspects. In fact, the power-to-weight ratio is only just saved from the being right at the bottom of the list by the Yamaha T7 and the Suzuki 650 XT. On the plus side, most of the amazing electronics from the R 1250 GS is available on the F 850 GS.
#3: Ducati Multistrada 1260 Enduro
Some say the Ducati Multistrada 1260 Enduro is better looking than the closest competitors (the BMW R 1250 GS and the Ktm 1290 Super Adventure). I can't comment, as looks are just too subjective.
The Multistrada 1260 Enduro is a big bike, but the ergonomics have been tweaked from the previous 1200 Enduro to make it less imposing to shorter riders. The seat height is 10 mm lower, there is 15 mm less suspension travel (front and rear) and the handlebars and foot-pegs were lowered too. At 560 pounds it is a very heavy bike, but there are four adventure bikes on our list that weight more.
This Ducati adventure bike is packed with electronics that will inspire confidence off road and on. In 'Offroad' mode set to 'Low', the power is cut from 158 hp to only 100 hp and the computer brain offers lots of assistance in the form of ABS and traction control, making it easier for novice riders. This can all be adjusted if you want to test your own limits. The 1260 also has a lower 1st gear than the 1200 to further help in tight situations.
#4: Honda CRF 1100 L Africa Twin
The new Africa Twin with the 1 084 cc parallel twin engine is not the most powerful big adventure bike around. In fact, it is more comparable to the BMW F 850 GS than the bigger 1 250. It costs nearly the same as the 850 and weights much less, making it a better off-road machine.
Some riders complain that the AT is lacking on the tarmac, but that is a complaint that is only valid if you are a moto-journalist that gets to ride all the latest bikes everyday. In the real world, the Africa Twin is an exceptional dual purpose adventure bike that will take you wherever you are willing to risk it.
The Honda Africa Twin is the only bike that is giving the GS's something to be concerned about in terms of market share. One thing that puts the Honda very high up on my list of the best adventure bike is the fact that Honda motorcycles consistently score in the top 3 in terms of reliability. The low compression ratio of 10.1 : 1 (which is the lowest of all the bikes here) and under-stressed engine may not be the most exhilarating ride, but it will keep going long after the others have let you down.
#5: Honda CRF 1100 L Africa Twin Adventure Sports ES
At $2 800 more than the standard Honda CRF 1100 Africa Twin, what do you get on the Adventure Sports ES model apart from Honda's awesome looking racing colors? Well, let's see:
Larger gas tank (6.5 gallon instead of 5)
Longer range 310 miles (that's 75 miles further)
Better wind protection (bigger fairings, hand guards and an adjustable windscreen)
12V accessory charger and heated grips
Beefed up sump guard and aluminium rear carrier
Corner sensitive lighting
Semi-active, electronically controlled suspension from Showa
Tubeless tires
Just check out the scenes from the Namibian desert in the Africa Twin ad below. It gives me goosebumps, and not only because I've toured on those same roads many times before.
All these extras adds 26 lbs to the Adventure Sports model. At least Honda listened to shorter riders and the Adventure Sports now has a seat height similar to the base model.
#6: KTM 1290 Super Adventure R
KTM is on a mission to take on BMW's R 1250 GS Adventure and their weapon is deadly. The KTM 1290 Super Adventure R is equiped with a de-tuned version of the Super Duke R's LC8, the most powerful engine ever built by KTM. In the Super Adventure R it delivers a class-leading 160 hp, giving it the best power-to-weight ratio of all the adventure bikes.
Luckily the bike is packed with electronics to rein in all this power, lean-sensitive ABS being one of them. In 'Offroad' mode only 100 hp is available and the smart traction control system allows massive wheel spin only while the bike is upright. When leaned over, the computer brain decides how much slip to allow in order to steer the rear end around without wiping out. This means that you need to learn to trust the system and just ride.
If you trust your own riding abilities, you can switch off all the rider aids and brave the dirt with all the horses. The flat plank seat allows you to move around the bike over the rough stuff, but on tarmac you need to hold on if you grab a fist-full of throttle.
The 1290 has stiffer fork-springs than the old 1190 and handles great on twisty tarmac roads, even with the bigger 21 inch front wheel. A very neat feature is the waterproof phone charging compartment. It is such a simple feature but is shows that KTM is really focused what a rider would want in real world conditions.
#7: KTM 890 Adventure R
Only two years after KTM launched the much-loved 790 Adventure R, the 890 range was announced. With a bigger engine, more rotating mass in the flywheel and updated electronics, KTM made sure it stays ahead of the mid-sized adventure bikes. At least as far as dirt riding is concerned.
Check out our video below on the 5 most important upgrades of the KTM 890 Adventure R over the 790.
#8: KTM 790 Adventure R
The F 850 GS killer. With slightly more power (5 hp) and a lot less weight (90 lbs) the 790 Adventure R is much more dirt oriented than the Bavarian opposition and surprisingly comfortable on the road as well. In fact, it is the lightest bike in this comparison.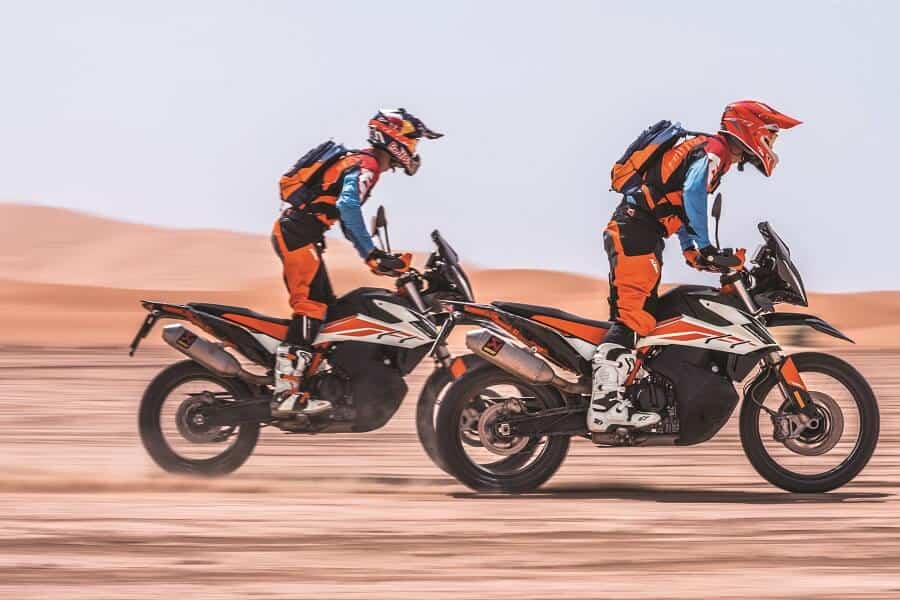 The very tall suspension – at 245 mm travel front and rear it is the best sprung of this bunch – and class leading ground clearance means that you have to be at least 5'8 to get the tip-toes of both feet on the ground. Luckily, the 790 has a low center of gravity thanks to the design of the 5.3 gallon gas tank and the well balanced chassis.
The quick shifter means you can effortlessly change gears up and down without the clutch and it is the first adventure bike featuring dial-able traction control. That's right, you can choose the amount of rear-wheel slip you want on a scale from 1 to 10. You can also set the throttle response and engine mapping by selecting the more controllable 'Offroad' mode or the very aggressive 'Rally' mode.
Some argue that the combination of light weight, awesome suspension and great balance, makes the 790 Adventure R the best adventure bike on the market. But what about KTM reliability, you may ask. I asked the same thing and did some research. You can read my findings on KTM adventure bike reliability in this post.
For another $5 800 you can get the KTM 790 Adventure R Rally version, of which only 500 will be manufactured. The Rally sits on WP XPLOR PRO suspension with a massive 270 mm of travel at both ends. Insert 'drool emoji' here.
#9: Suzuki 1050 XT
The XT version of the Suzuki V-Strom 1050 is styled after the 1988 DR 750 (a.k.a. Dr Big). I had one for a while and seeing the new 1050 XT with the same look I feel a pang of regret trading mine for a 1976 Jaguar XJ6 (what was I thinking!?).
The 1050 has a tall adjustable windscreen, square LED headlamp and three rider modes (A, B and C). Each mode changes the intensity of the ABS and traction control, and the XT version also has cruise control as standard. Another neat standard feature on the XT model is factory crash bars.
For me personally, the 1050 XT is one of the best looking adventure bikes but on paper it falls short in a few areas. It has the lowest ground clearance and the shortest suspension travel. The Suzuki is closest to the Honda Africa Twin in price and engine size, and while it beats its Japanse cousin by 5% on power, it weights nearly 10% more.
#10: Suzuki 650 XT
Many riders see the Suzuki V-Strom 650 as more of a street bike or budget road tourer. The 650 XT, however, has hand guards, a tall windscreen, tubeless spoked rims and a 19 inch front tire. How bad can it be on dirt roads? V-Strom owners report unfailing reliability and smooth V-Twin power which, at $9 299, is hard to ignore.
#11: Triumph Tiger 1200 XR
The Tiger 1200 is shaft driven, similar to the big GS and the Yamaha Super Ten. What really differentiates it from the other adventure bikes, is the fact that it is power dby a triple cylinder motor. This engine produces 5 more hp than the GS's 30 cc larger engine.
Other unique features on the British bike is an electrically adjustable windshield and cruise control as standard on all 1200's.
There are no less than 8 Triumph Tiger 1200 models to chose from, so you will be excused if you get them confused. Apart from the XR, XRX and XRX(Low), there's the more road-focused XRT. The XR is the base model which does not have the cornering ABS and traction control. As you move up the range, more features are added including more rider modes and heated seats on the XRT.
Then there are two special edition models, the Apline and the Desert. For the off-road enthusiasts, the XCX or the range-topping XCA is for you. The reason I included the road biased XR model with its cast wheels is because it is $3 200 cheaper than the base XCX but has the same WP suspension with the same amount of travel front and rear.
#12: Triumph Tiger 1200 XCA
Both XC models are lighter than any previous Tiger 1200 and feature the 'Offroad Pro' riding mode, tubeless spoked rims and optimized cornering ABS and traction control. The top XCA model also has Triumph Shift Assist for clutch-less gear changes and a hill-hold function for when you need to pull away on a steep incline with a heavy bike full of camping gear.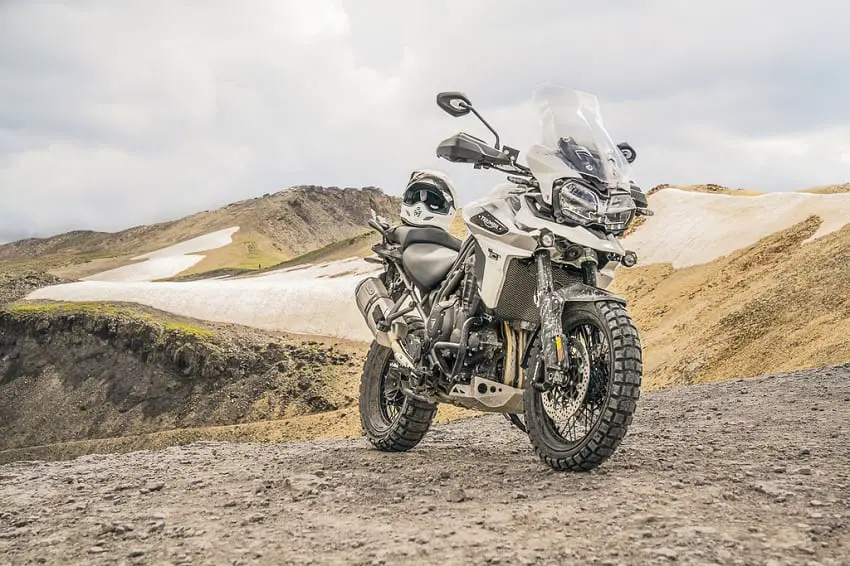 The XCA's rider and pillion seats are heated, and the XCA has an electrically adjustable touring windscreen and an Arrow titanium and carbon fiber muffler.
#13: Triumph Tiger 900 Rally Pro
The 900 series again has 6 different models. The base Triumph Tiger 900 starts at $12 500, but has cast wheels and suspension travel of 180 and 170 mm front and rear. That's still more than the Ducati Multistrada Enduro and the Suzuki 1050 XT, but if you want to go off-road, the Tiger 900 Rally or Rally Pro is what you want.
With a spoked tubeless rims and a big 21 inch front wheel, it is geared towards dirt riding. You also get Showa suspension front and rear with massive amounts of travel (front: 240 mm; rear: 230 mm). Except for the KTM 790 Adventure R, that's more than any of the other adventure bikes.
On the 900 Rally Pro you can connect your smart phone to the 7 inch TFT display to control phone calls and music. You can also access turn-by-turn navigation and even control your GoPro from this screen. Then there are 6 rider modes and Triumph's optimized cornering ABS and traction control which can be switched off if you feel confident. The quickshifter allows you to change up and down without closing the throttle or stabbing the clutch.
Heated seats for both rider and pillion are standard on the Rally Pro, and so is the tire pressure monitoring system. Lighter than the Africa Twin and more powerful than the BMW F 850 GSA, if I were a Triumph fan I'd look no further than the 900 Rally Pro.
#14: Yamaha Super Ténéré ES
The Yamaha 1200 Super Ténéré is an under-powered, overweight beast of a bike. Compared to the other 1 200 cc plus bikes here it feels slow. It has 24 hp less power than the BMW R 1250 GS, but weights nearly the same.
It is easy to get hung up on the numbers. Although the power delivery is more linear and less exhilarating than some of the other bikes, you'll still see 125 mph on the clock rather quickly if you gun it. That is not slow and more than enough for any long distance tour of thousands of miles.
The Super Ten will do everything you want it to on a long trip, and keep doing it until you are on the other side of the world. If I had to ride around the world tomorrow with all my camping gear and my wife on the back, I would trust the Super Ten's dependability to get me there and back again safely.
I believe, however, in traveling light. When we rode through Africa for 90 days, we did it on two 200 cc Chinese delivery bikes. There are enough reasons to do it the same way again. Check out my post HERE to find out what they are.
That is an extreme example and there is a better option somewhere in between. And that is the Yamaha T7.
#15: Yamaha Ténéré 700
Yamaha made us wait 3 years for the new Ténéré 700, or T7 as they call it. It is a completely new bike, nothing like to previous XT 660 Z single. The combination of a longer swing-arm and higher front sprocket pushes the front down when accelerating hard to prevent the rear from squatting down. It is not the most powerful bike, but is close to being the lightest on our list and it has a near perfect 52:48 rear bias weight distribution.
The biggest plus for me personally, is that it does not have traction control, rider modes or cruise control. It is just a bike and it has arguably the most reliable engine among the competition. In fact, Yamaha claims this CP2 engine is the most reliable motor on the market today. That is what I like in an adventure bike that you need to trust when there is no-one near for hundreds of miles.
It does have ABS, but only because Euro 4 safety standards made it compulsory for all motorcycles above 125 cc in 2016. Oh yes, and thank you for killing the KLR 650, Euro 4! (That was me being sarcastic in case you wondered).
Conclusion
Well, there is no conclusion and any attempt at picking the best adventure bike would be subjective and based on personal taste. That said, if I am spending my own money and I want to buy an adventure bike to tour around the world on, I would buy the Yamaha Ténéré 700 today.
Related questions
Is it a Dual Sport or an Adventure Bike?
Some riders do not distinguish between dual sport and adventure bikes, others see adventure bikes as a sub-category of dual sports. To find out what the real difference is (with 26 examples) read this post.
What Should I consider Before Buying an Adventure Bike?
For a comprehensive list of the 22 things to consider before investing your hard-earned cash in ab adventure bike, read this post.
Which Accessories Should I Get for my New Adventure Bike?
Once you've taken the plunge and splurged on one of the adventure bikes above, read this post for a list of 24 must-have accessories for your motorcycle.