If you are keen to start touring on a motorcycle and are looking to buy your first adventure bike, it can be daunting to choose the right adventure bike for you. It is not a cheap hobby and there are just so many awesome adventure bikes bikes out there, and so many factors to consider.
Whether you already have your dream bike in mind or have no clue at all, here are 22 things to consider before buying an adventure bike.
1. Are you planning more dirt or tarmac?
The type of roads you plan to ride will have a big impact on which bike will suite your needs best. If you are mainly going to ride on the highways and back country tar roads, you do not need a tall adventure bike with long-travel suspension. Most motorcycles can comfortably ride short stretches of good condition gravel roads and a road bike like the Honda NC750X might be perfect.
If, on the other hand, you plan to venture off the beaten track, a more dirt-focused bike like the KTM 790 Adventure R or the BMW R 850 GS Adventure may be a more suitable bike for you.
2. How tall are you?
Adventure bikes are known for being taller than most other types of bikes. In fact, it is quite difficult to find an adventure bike with a seat height lower than 32 inches. That means the average woman (at 5 foot 4 inches) will struggle to put both feet flat on the ground.
There are bikes that have lower seats as options from the factory, like the BMW G 650 GS (at 30.3 inches) and the F 750 GS (at 31.1 inches). If you want an older, less expensive bike, you can lower the suspension with aftermarket suspension links, like these for the Kawasaki KLR 650.
I wrote a whole post on why adventure bikes are so tall. You can read it by clicking HERE.
3. Long or short distance trips
How far you plan to ride will have an impact on which bike will be best suited. If you are only ever going to go on short distance weekend trips, you don't need a large capacity bike that can eat up the highway miles. Some riders tow their light-weight dual sports bikes, like a Suzuki DRZ 400 or a KTM 500 EXC, to the destination and then ride around for a few days with minimal camping gear. That way you eliminate the discomfort of riding thousands of miles of tarmac on a bike designed for the rough stuff.
If, on the other hand, you are planning a cross continental adventure bike trip, like riding from the north of the US to the south of Argentina, a bigger bike might be more comfortable. Just remember, that does not mean you absolutely need a BMW 1250 GS Adventure to ride across the continent. My wife and I rode the classic Cape to Cairo route in Africa on two 200 cc Chinese delivery bikes. We covered more than 9 500 miles in 3 months.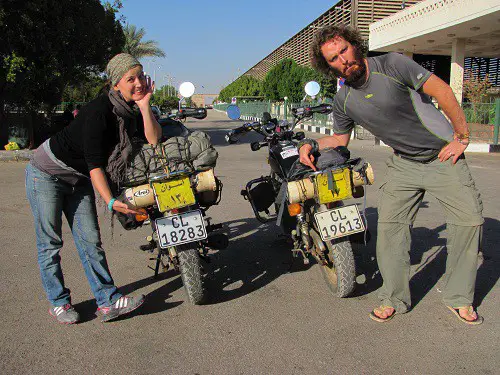 Do some research on fuel tank size and range. In most countries, you only need fuel for about 180 miles. A trip to the Western Sahara, however, may require a much longer range. There are some other options to carry extra fuel if your bike does not have a large fuel tank.
For four ways to safely carry extra fuel on your bike, read this article.
4. Stay within budget
This is probably the most important factor and should be your starting point. If you only have $5 000 to spend, you will have to look at buying second-hand. For about the same price as a new Yamaha XT 250 you can get a good second-hand BMW F 650 GS (or even an older 800).
A modern, large capacity adventure bike will set you back anywhere from $15 000 to well above $20 000 for a fully kitted BMW R 1250 GS Adventure. Luckily, there are many good second-hand bikes out there that has not seen any dirt roads. Riders buy new adventure bikes and realize it is not for them, or they use it to commute and upgrade to a newer model later.
If you shop around you can find a good condition bike that has already taken the initial depreciation hit. It you are unsure, but have your heart set on a certain model, go rent it first to see if it is the right bike for you before you fork out thousands of dollars. You can rent a wide range of adventure bikes from Ride Adventures Tours and Rentals.
5. Two-up or solo riding
My first bike trip was on my trusty 1980 Yamaha XT 500. Soon after this trip I got married and upgraded to a Kawasaki KLR 650 in order to take my wife along as a pillion. It worked well, but as the trips became longer (we did a 1 000 miles on dirt roads one weekend), we realized we have to make a choice.
We had to either upgrade to a larger bike, like a BMW R 1200 GS or KTM 990 Adventure R, or we had to get a second bike. My wife is somewhat vertically challenged and the only bike we could find that was short enough was a BMW F 650 Funduro.
It is entirely possible to ride two-up on a single cylinder entry level adventure bike (my friends and I have done multiple two-week trips with our wives on the back of 650's), but there is no question that a bigger twin cylinder motorcycle will be more comfortable, especially with luggage and camping equipment for two.
6. Safety features
Motorcycles are inherently dangerous, but bike manufacturers are continuously coming up with more advanced safety features. It started with disc brakes in the front in the 1980's. Nowadays it is almost strange if a bike does not have electronic traction control or an anti-lock braking system (ABS). Most bigger adventure bikes also feature cruise control.
Here is a list of adventure bikes with factory cruise control.
All these electronic rider aids do not mean you are safer in a crash. Some riders even argue they make the bikes more dangerous, as it gives inexperienced riders a false sense of security. An older, more basic bike, with a much less powerful engine, can be every bit as safe as a top-of-the-range adventure bikes with a computer controlling everything. It just depends on how you ride it.
7. How much riding experience do you have?
If you have never been on two wheels in your life, it is probably a good idea to start on a smaller, light weight bike with less power. The confidence you build on a smaller bike will be very valuable as you upgrade to a big adventure bike weighing 500 pounds and that can do 125 mph.
That does not mean a bigger and faster bike is necessarily difficult to learn on. If you are tall and strong, it will definitely be easier for you. And if you've ridden a super bike or cruiser before, an adventure bike will be a walk in the park as adventure bikes are generally more comfortable.
My wife rode her own bike 3 600 miles around South Africa in 19 days. This was after she has been riding for less than a month from getting onto a bike on her own for the very first time. She did the trip on a 125 cc Chinese bike, which made it much easier, but she bought her first 400 lbs bike, a BMW 650 Funduro, soon after this trip.
8. Off the beaten track
If you intend to tour from guest house to guest house, on popular roads with good cell phone reception, your choice of bike is less important. You will always be able to find help if you break down or need roadside assistance.
If, on the other hand, you plan to venture off the grid on your own without a back-up vehicle, you need to make sure you are comfortable the bike will make it. This will require a reliable bike that is well maintained. It will also help if you know your way around the bike in case it won't start one morning. This is even more important if you intend on getting a second-hand bike.
For this reason, I tend to feel safer on bikes with less electronics. I've been on trips where a bike won't start after falling over because the computer cut out as a safety precaution. Modern, technologically advanced bikes are also more sensitive to dirty fuel. That is why Yamaha (arguably the most reliable bike brand) has opted not to include all the electronic wizardry on the XT 700 Ténéré. It also still runs on tube-type tires which are easier to fix yourself.
9. Do you like getting your hands dirty?
Following from the previous point, if you are keen to service and maintain your own bike you might be more inclined to go for a second machine. The older bikes are easier to work on and require less specialized tools.
If you do not care for how an engine works and just want to ride, a new bike with a factory warranty may be a safer option for you.
10. Duration of the trip
A weekend trip does not require much in terms of daily maintenance of spare parts. If your bike is serviced regularly, you can simply get on a go. On longer trips that will last weeks or months, you need to plan ahead.
Which maintenance tasks can you do yourself, or do you need to have the bike serviced at a dealer? If you buy a brand new BMW R 1250 GS Adventure for $20 000, you will have to get it serviced at an authorized dealer in order to retain the factory warranty. On a second-hand bike, that won't be an issue but you may have to carry certain spares that might not be available where you are headed.
While we didn't plan this, we found that the 200 cc Chinese delivery bikes we rode on our 3-month trip through Africa were perfect, since the exact same bikes were available in almost every country. I purchased a carburetor kit in rural Tanzania, spare chain in Ethiopia, and spare tire in Sudan. If I had issues with a new KTM 790 Adventure R I would have had to wait for parts to be couriered from elsewhere.
11. Touring only, or play too?
Some adventure bikes can double up as dirt bikes. You can easily keep up with your scrambler friends on your KTM 790 Adventure R or Honda CRF 250 Rally, and still tour the country on a two-week trip. The same cannot be said of a heavy BMW GS which is not the most fun bike to pick up after falling over in the soft sand.
12. Will you commute to work?
When I purchased my first bike I found it very useful as a commuter to work. It was much easier to find parking and I could ride during rush-hour as I was able to weave through traffic. Not all bikes are equally suited to lane-splitting. On a large, wide bike it is easy to hit a side mirror of a car. And controlling a heavy, 1200 cc adventure bike requires skill and confidence. A small 300 cc Kawasaki Versys, for instance, will be a much more comfortable and economic commuter.
13. Worried about scratches?
If you are the type of person who worries about tiny dings and scratches on your bike, just get a second-hand bike. Adventure biking is tough on a motorcycle and if you plan on venturing off the tarmac, you are bound to drop you bike at some stage.
While crash bars will help avoid major damage if the bike falls over, it is inevitable that your bike will show some wear. Strapping luggage onto your bike, getting on and off with dirty riding boots, and falling over in soft sand or mud will show after a few months.
If you don't have to worry about the bike's perfect paintwork you will have more confidence tackling obstacles and rough roads. You will also have more fun, as you would more easily say yes for the unknown.
14. Crossing the border
Crossing borders with any vehicle presents new challenges. You need to make sure you have the correct paperwork and in some countries (especially in Africa) you need to pay temporary import tax upon entering the country. You can get a document that exempts you from this (a Carnet de Passage), but you still have to put down a deposit that depends on the value of your bike. If you want to enter Egypt, for instance, that deposit is 200% of the value of your bike.
15. Bike depreciation
A new bike will depreciate a lot faster than a second-hand bike. In fact, it will probably lose around 10-20% of its value as soon as you ride it off the showroom floor.
If you are concerned about depreciation, buy a demo model or an older second hand bike. Some very old bikes, like the BMW R 80 GS might even increase in value if you can find a good one.
16. Insurance cost
Many riders forget about the cost of insurance when they buy a new bike. Remember to factor this in by getting a quote before you purchase. The insurance premium on a very expensive new adventure bike will be much higher than an old bike. The cost of repairs on newer adventure bikes are so high that a bike will easily be totaled in a small crash. An older, simpler motorcycle might be repairable at a much lower cost, and therefore you may only need 3rd-party insurance.
17. Chain versus shaft drive
Most adventure bikes use a chain as the final drive between the transmission and the rear wheel. Chains need regular maintenance, which includes cleaning, inspecting, lubricating and adjusting the tension. This is easy to do yourself and critical on a long trip, especially if you plan to ride a lot of dirt roads.
For more on how to maintain your bike chain yourself, check out my article on bike chain maintenance.
The big BMW R 1250 GS and the Yamaha XT1200Z Super Ténéré use a solid drive shaft instead of a chain. This is virtually maintenance free. If it is in good condition and well maintained before you leave, you can forget about it on most trips.
18. Tubed versus tubeless tires
A flat tire is probably the most common breakdown that you will experience on an adventure bike trip. Bikes don't have spare wheels like cars, so it is important to have a plan of action for when (not if) it happens to you.
Many modern adventure bikes come out with tubeless tires. They puncture less easily and can be fixed (in most cases) with a simple plug. The old style tubed-type tires have the advantage that you can simply patch or replace the inner tube if you get a flat.
Even if you are able to fixed your own tire, you will need a pump to inflate the tire afterward. Read more on motorcycle pumps in this article.
19. Automatic versus manual transmission
Motorcycles all have manual transmissions with the exception of some Honda models. They offer their automatic transmission, referred to as DCT (for Dual Clutch Transmission) on the legendary CRF 1100 L Africa Twin. I've only ever experienced the DCT on the Honda VFR 1200 F DCT when it first came out and it was surprising how well it worked.
20. Parts availability
If you do opt for an old bike, make sure that spare parts are still readily available. There is nothing worse than struggling to find parts and having to fork our hundreds of dollars importing it from Europe.
21. Aftermarket accessories
The more popular your model of bike, the more aftermarket accessories will be available to you. These may include wider foot pegs, crash bars, LED spot lights and many more. Shop around on the internet to see what is available before you commit to a certain bike brand.
22. Luggage options
Finally, adventure biking is all about hitting the open road and exploring new areas. You will most probably take camping gear, as well as food and water with you. Strapping a bunch of stuff to a bike is not as simple as it sounds, and in order to do so safely you will have to consider which luggage system to use.
Soft saddle bags can be thrown over any bike, but may damage your fancy new steed's paintwork. Many manufacturers offer luggage racks and hard luggage boxes as optional equipment. Do some homework before deciding on your bike of choice.
Also remember that a bigger bike will be able to carry heavier luggage. So if you plan to load a 100 lbs of equipment on your bike you may want to go for a 1200 GS instead of a light-weight KTM 690.
Conclusion
While there are so many things to consider when buying an adventure bike, in the end it comes down to your own personal preference. You are never going to find the perfect adventure bike on paper. Some are going to be better than others on certain points, and fall short on others.
In the end the perfect adventure bike is the one that puts the biggest smile on your face!