Cruiser motorcycles are know to have lower seat heights than most other types of bikes. Even though cruisers are heavy, their low seat heights make these bike easier to ride, especially for shorter riders.
The average cruiser has a seat height of 27.0 inches (686 mm), exactly 5 inches lower than the average street bike. With a seat height of 28.9 inches (734 mm), the Harley Davidson Sportster S is the tallest, while the Harley Davidson Softail Slim has the lowest seat height of 25.5 inches (648 mm).
The best way to find out which motorcycle will be best suited to you is to go to the dealership and sit on the bike. A test ride is even better. But before you go, here is everything I could find on cruiser motorcycle seat heights.
Why are Cruisers so Low?
At 27 inches, the average cruiser motorcycle is lower than any other category of motorcycle. If you exclude the Harley Sportster S (which is more of a street bike anyways), the tallest real cruiser – the Suzuki Boulevard C90T with a seat height of 28.3 inches – is still lower to the ground than the average Touring motorcycle (touring bikes is the second lowest type of bike).
So why are cruisers so much lower than any other type of motorcycle? Well, there are a couple of reasons:
Cruisers have a low center of gravity
Apart from being slow and underpowered (yes, they are… see why in this post), cruiser motorcycles are heavier than most other types of bikes. Only the touring bikes are heavier due to their luggage and luxury features. Cruisers attribute their weight to the unique, imposing design with long curved handlebars, big wheels, and massive exhaust pipes. Cruisers also have large displacement engines is big as 2 000 cc or more.
In order to make these heavy bikes more manageable, the center of gravity needs to be kept as low as possible. The average cruiser weighs nearly 600 lbs (some are more than 800 lbs). At this weight, the last thing you want is a top-heavy machine. Therefore, cruisers have low-slung seats to enable the rider to plant both feet firmly on either side of the bike. With the weight of the rider down low, the center of gravity is also kept low, allowing for a more controllable ride and better handling.
Shallow rake angle
Cruisers have a shallow rake angle which helps with stability when cruising on the freeway. The rake angle is the slope of the front fork from the steering stem. The shallow rake on cruisers is apposed to supersports bikes that have steep rake angles to help with sharp handling and quick turning. If you are unsure what I'm talking about, just look at how far a cruiser's front wheel is out ahead of the handlebars. That shallow rake angle means the rider sits lower behind the bars, instead of high 'on top of' them.
Short suspension travel
Cruisers are not designed to ride on gravel or dirt roads. Instead, they are meant to cruise down city streets or go for a relaxing ride on the highway along the coast. For this reason, cruisers have very little suspension travel which results in a lower seat height. Dirt bikes and adventure bikes, on the other hand, are tall due to their long-travel suspension. For more on adventure bike seat heights, check out this post I wrote.
The low-slung suspension on cruisers come from a rich tradition of Harley Davidson trying to hide ugly suspension components to pay homage to the old Hardtail Harleys that lacked rear suspension altogether (like the ones from World War II).
Low ground clearance
Since cruisers are made to cruise instead of tear up dirt roads, ground clearance is of no concern to the cruiser rider. The look demands a low-slung appearance and as a result, the frame hangs low to the ground. This is another reason why it is so easy for shorter riders to flatfoot it on a cruiser.
List of Cruiser Motorcycle Seat Heights
To give some perspective, the average cruiser motorcycle has a seat height of only 27 inches compared to 32 inches for the average street bike and 33.1 for the average adventure bike (see more on ADV bike seat heights here). The overall average motorcycle seat height of all categories of bikes (including kiddies bikes) is 31.6 inches.
The table below contains all the seat heights of all the cruiser motorcycles currently (2021/22) available from the major brands of motorcycles' websites. For the seat heights of 290 motorcycles of all types, check out this comprehensive article I wrote.
Bike Model
Seat Height
(Inches)
Seat Height
(mm)
Harley Sportster S
28.9
734
Suzuki BOULEVARD C90T
28.3
719
Suzuki BOULEVARD C90 B.O.S.S.
28.3
719
Suzuki BOULEVARD M90
28.2
716
BMW R 18 Classic
28
711
Suzuki BOULEVARD M109R B.O.S.S.
27.8
706
Kawasaki VULCAN S
27.8
706
Kawasaki VULCAN S CAFE
27.8
706
Harley Fat Bob 114
27.7
704
Suzuki BOULEVARD C50T
27.6
701
Suzuki BOULEVARD C50
27.6
701
Suzuki BOULEVARD M50
27.6
701
Suzuki BOULEVARD S40
27.6
701
Honda REBEL 1100 DCT
27.5
699
Honda REBEL 1100
27.5
699
BMW R 18
27.2
691
Yamaha Bolt R-Spec
27.2
691
Honda REBEL 500 ABS
27.2
691
Honda REBEL 500
27.2
691
Honda REBEL 300 ABS
27.2
691
Honda REBEL 300
27.2
691
Kawasaki VULCAN 900 CUSTOM
27
686
Yamaha V Star 250
27
686
Honda FURY
26.9
683
Kawasaki VULCAN 900 CLASSIC LT
26.8
681
Kawasaki VULCAN 900 CLASSIC
26.8
681
Harley Low Rider S
26.5
673
Harley Heritage Classic
26.3
668
Harley Forty-eight
26.2
665
Harley Fat Boy 114
25.9
658
Honda SHADOW AERO ABS
25.9
658
Honda SHADOW AERO
25.9
658
Harley Streetbob 114
25.8
655
Harley Softail standard
25.8
655
Honda SHADOW PHANTOM
25.8
655
Harley Sport Glide
25.7
653
Harley Iron 883
25.7
653
Harley Iron 1200
25.7
653
Harley Softail Slim
25.5
648
Cruiser motorcycle seat heights comparison table (Source: Manufacturers' websites)
It is interesting to note that, if you remove the four 50 cc kiddies dirt bikes (like the Yamaha PW50), the Harley Davidson Softail Slim is the motorcycle with the lowest seat height of all motorcycles at only 25.5 inches (or 648 mm).
I've left out the Triumph Bonneville Bobber which is kind of a cruiser. For those interested, it has a very average seat height of 27.2 inches.
Top 3 Cruisers for Beginner Riders
Cruiser motorcycles are perfect for beginners due to their low seat height and comfortable riding position. Cruisers tend to have less power than similar sized street bikes which makes cruisers less intimidating for new riders. Beginner motorcyclists can choose from a wide variety of engine sizes and weights of the different cruiser bike models.
While some cruisers are big and heavy – and not really suited to beginner riders – there are some smaller and mid-sized cruisers that are perfect for beginner riders. The following three cruisers are the best suited for complete beginner riders:
Yamaha V Star 250
The V Star 250 is a light and nimble little cruiser with a 249 cc air-cooled V-twin motor. At 27 inches, the V Star's seat height is exactly average for a cruiser, but the real benefit for new riders is the light weight. The V Star 250 is the lightest cruiser motorcycle, only weighing 324 lbs (147 kg) wet.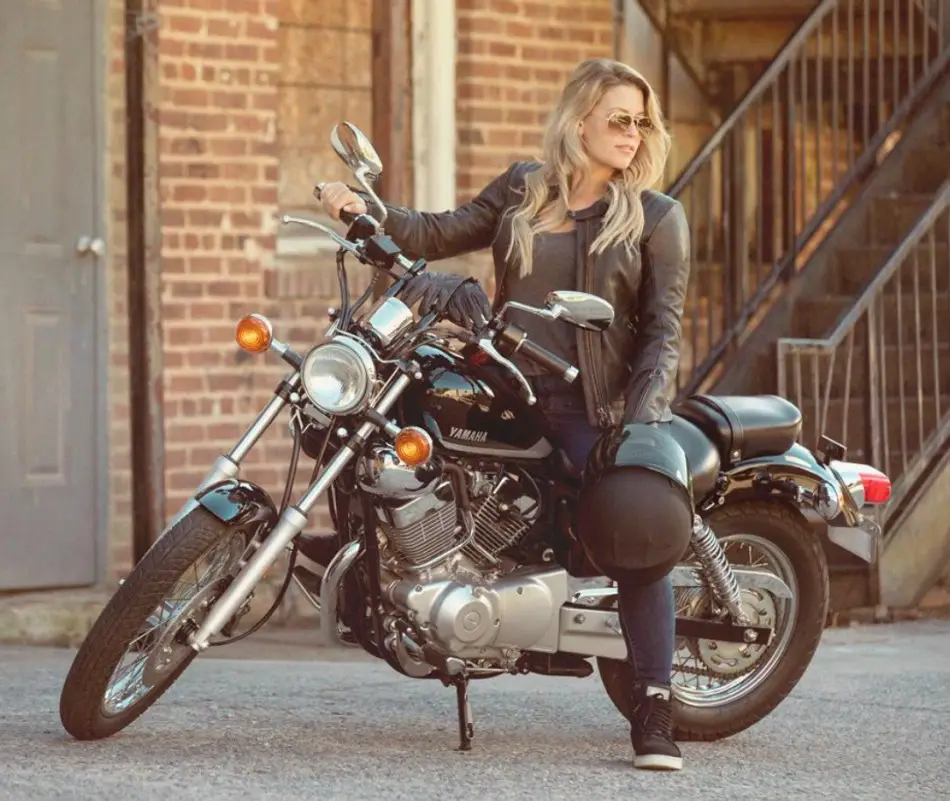 The light weight and low seat makes the V Star easy to handle while the beginner still learns to control to clutch and throttle, inspiring confidence and reducing the risk of dropping the bike.
Honda Rebel 300
The Honda Rebel 250 has been the quintessential beginner bike since 1985. With a low seat height, low power, and bulletproof reliability, it is one of the most popular amongst newer riders. In 2017 Honda released the 286 cc Honda Rebel 300 to take over from the 250.
Now with ABS and a slipper clutch, the Honda Rebel 300 is still one of the best beginner bikes on the market. With its black frame, engine and wheels, it looks menacing. But almost anyone can get on the Rebel 300 and learn the basics of riding a motorcycle on an unintimidating bike that inspires confidence. And when it comes time to upgrade, the Rebel 500 is only a small step up with the same 27.2 inch seat height than the 300.
Suzuki Boulevard S40
The Suzuki Boulevard S40 is unique amongst the entry-level cruisers. Instead of a small V-twin engine it has a larger 652 cc SOHC air-cooler motor. Even though the engine is 38% (181 cc) larger than the Honda Rebel 500, the Suzuki Boulevard S40 weighs 27 lbs less at only 381 lbs.
The sound and vibrations of the big single cylinder will give the beginner rider the feel of a large cruiser without the intimidating torque and top speed. Another great feature of the Boulevard S40 is that it is belt-driven like a Harley Davidson. This requires much less maintenance than a chain, allowing the new rider to focus on gaining confidence on the road instead of maintaining the bike.
Are Cruisers Good for Tall Riders?
Cruiser motorcycles are great for tall riders due to their forward positioned foot pegs and handlebar controls. The stretched position on cruiser motorcycles offer tall riders a comfortable and relaxing riding position. The Harley Sportster S is the tallest cruiser bike with a seat height of 28.9 inches (734 mm).
Just because a rider has long legs, doesn't mean a motorcycle has to have a tall seat height. Being able to put both feet flat on the ground gives a rider confidence and makes it easier to get on and off the bike. The lower center of gravity as a result of the low seat ensures better handling in twisty mountain roads.
While the smaller entry-level cruisers mentioned earlier are great for short riders, big twin-cylinder cruisers like the Harleys and larger Japanese models offer ample legroom and comfy ergonomics for tall riders, making them much more comfortable than sports bikes.
If you are into cruisers, I guarantee there is a perfect model for you out there, no matter how short or tall you are.
Happy bike-hunting!