I remember the first time I got onto a KTM 990 Adventure S. I could not put my feet flat on the ground. Anyone that is vertically challenged and that has ever stood next to one would agree that adventure bikes are tall. Very tall.
So why are adventure bikes so tall? Adventure bikes have to combine long travel suspension, decent ground clearance, a big front wheel and large fuel tank with comfortable ergonomics. This makes them taller than most bikes in order to excel at long distance touring and being capable off-road.
Let's have a look a closer look into why a adventure bikes are so tall.
Adventure bikes are tall because of engineering challenges
Adventure bikes were initially born from dual sport bikes like the old Yamaha XT 500 and BMW R 80 GS. These started out as road bikes, but the manufacturers decided to add longer travel suspension and bigger front wheels to make them more capable off-road.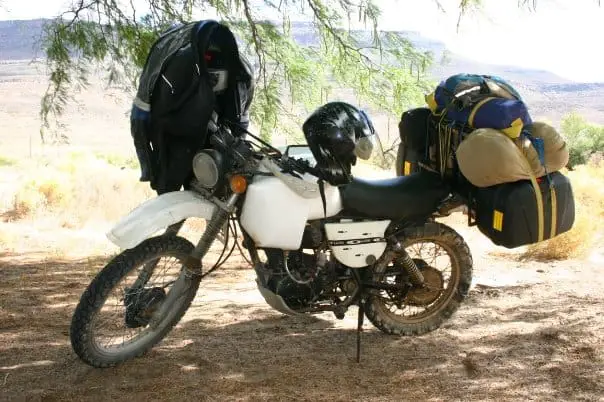 The first few Paris-Dakar Rally's were won by these bikes. As technology improved, manufactures started adding more advanced components to the bikes. They also started to make them more comfortable for long-distance touring.
If you want a comfortable long-distance touring bike with a low seat height, a Honda Goldwing is perfect. With a seat height of only 29 inches, it is shorter than the lowest adventure bike. The BMW G 650 GS with the special lowered seat is 30.3 inches tall. But you wouldn't want to ride your Goldwing over rocky dirt roads in Africa.
If, on the other hand, you are looking for a bike that is perfect in the dunes and can race over boulder strewn dry rivers beds, a Honda CRF 450 R or KTM 525 EXC is just the bike for you. The only thing is, you will probably have to take it to the trail on the back of your truck.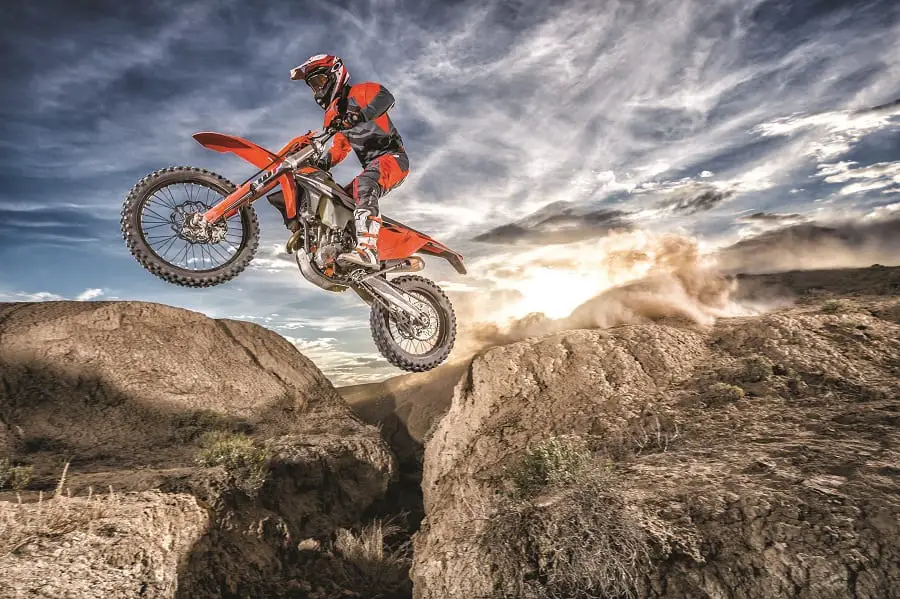 Adventure bikes are designed in order to be good at both long distance tarmac touring, as well as capable enough to withstand the rough stuff. This is not an easy task, especially if the rider wants to sit in a comfortable position too.
For a complete list on the seat heights of most popular adventure bikes, check out this resource I compiled.
Let's have a look at each of the things that make an adventure bike so tall, in more detail.
#1: Long suspension travel
One of the main features of large adventure bikes is their long travel suspension. This helps absorb corrugations and rocks on dirt roads, and help keep the bike stable over bumps at speed.
Adventure bikes are designed to carry a lot of weight on long trips. The heavier the bike, the more force the suspension has to absorb. If you hit a pot hole or a small bump at 60 mph on a dirt road, you need good suspension to prevent the shocks from bottoming out.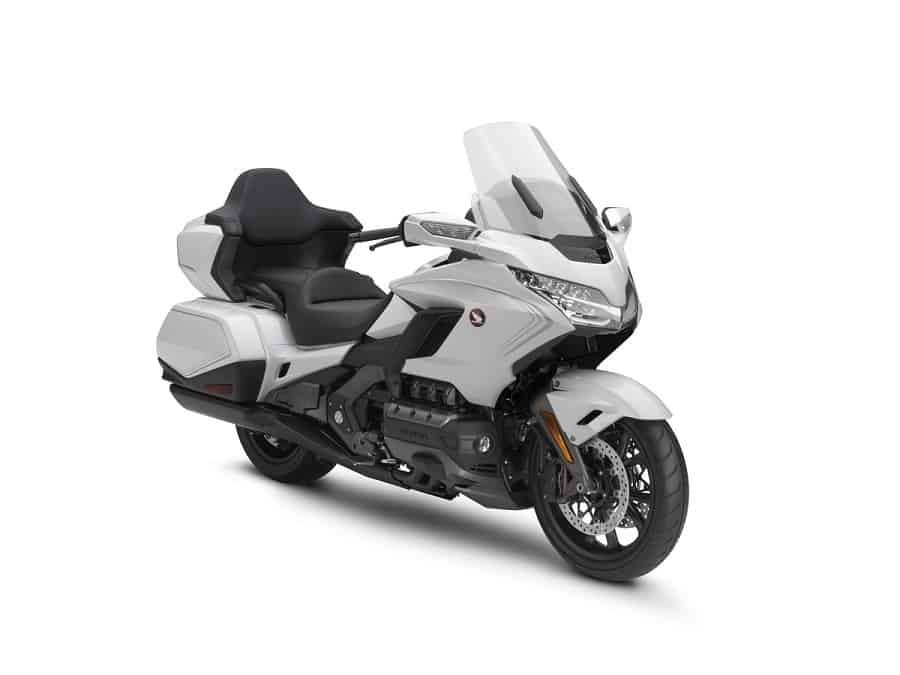 To give you an idea of the suspension travel, a KTM 1290 Super Adventure R has race-developed, semi-active White Power suspension front and rear. This allows both wheels to travel 220 mm from top to bottom, exactly double the distance of the Honda Goldwing GLX 1800 (at 110 mm). A proper dirt bike, like the KTM 525 EXC has 295 mm and 320 mm travel front and rear respectively.
#2: High ground clearance
The distance between the ground and the lowest point of the bike's chassis is referred to as the ground clearance. An adventure bike needs to have good ground clearance in order to ride over rocks and other obstacles without damaging the underside of the bike.
You also don't want a foot peg to hit a log or boulder when riding over it on a trail. Better ground clearance is obtained by fitting larger diameter wheels and longer travel suspension. If you are looking for high ground clearance, but still want to sit in a half-decent position, you need a tall bike.
#3: Comfortable ergonomics
By fitting longer suspension and bigger wheels to a bike, you automatically move the rider higher up on the bike. If the rider does not mind crouching with bent knees, like on a super bike, then the seat can be lowered. But if you want to sit comfortable, with your knees at a reasonable angle and an upright body, the seat will have to be raised.
The distance between the foot pegs, the rider's rear end, shoulders and hands all play a role in how comfortable he or she will sit. On long adventure bike trips, comfort is not a bad thing at all. There also needs to be space for luggage, a pillion maybe, and a large fuel tank.
#4: Adventure bikes need big fuel tanks
If a motorcycle only consisted of wheels, suspension and a seat it would have probably been easier to design a bike with a lower seat. Adventure bikes, however, require large fuel tanks to extend the range between gas stations. There are also the large engine and all the electronic rider aids that need to be fitted somewhere between the wheels and the seat.
The bigger adventure bikes have fuel tanks of anywhere between 5 and 8 gallons. That is a big component to fit onto a bike, and a taller seat is required if the rider is not keen on resting his chin on the fuel tank like on a super bike.
#5: Big front wheel
A feature of adventure bikes that immediately stand out are the big, spoked wheels. The big KTM 1290 Super Adventure R has the same size front wheel as the KTM 525 dirt bike (21 inches), while the Goldwing only has an 18 inch front wheel.
The front wheel on an adventure bike is larger than the rear wheel. This is because big wheels are not just for better ground clearance. A big wheel with a large circumference will roll over obstacles much easier than a smaller wheel. That is why mountain bikes also moved from 26 inch wheels to 29'ers.
Big wheels are more comfortable on rocky roads, as they diminish the shocks of any rocks they roll over and they make it much easier to clear larger obstacles like fallen logs or ruts.
The problem with tall bikes
So why are tall bikes an issue?
Once you get on a bike, almost any rider can comfortably reach all the controls. The difficulty is not in riding it, but when you need to stop. Adventure bikes are heavy. The KTM 1290 Super Adventure R weighs 479 lbs compared to the KTM 525 EXC's 247 lbs. In order to balance and control a heavy bike at low speeds, it helps if you can put both feet firmly on the ground.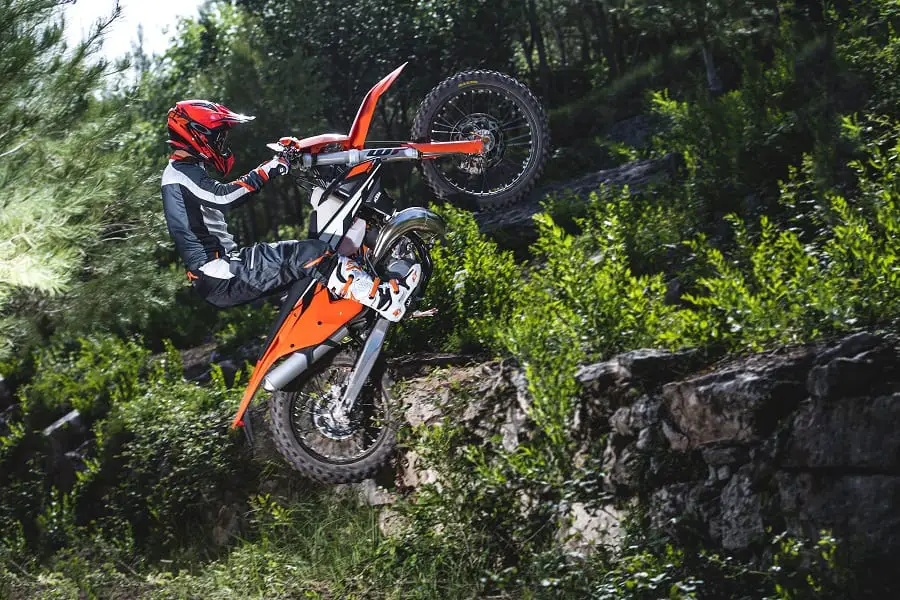 If the going get really tough, you might have to stop every so often before pulling away again. While it is not impossible for a shorty to ride a big BMW R 1250 GS Adventure weighing nearly 600 lbs (when loaded and fueled), the rider will have much more confidence if both feet can be planted next to the bike.
Adventure bikes for shorter riders
Many manufacturers (like BMW and Triumph) offer lower seat options, but they are still taller than most road bikes. The BMW F 650 GS and G 650 GS are the only ones I could find that come close to 30 inches (when lowered). Even smaller bikes like the Yamaha TW 200 or XT 250 have seat heights that are higher than the BMW 650's.
The big advantage of the smaller-engined bikes, though, are that they weight much, much less. That really make the bikes much easier to control at low speeds. It is also easier to pick up after the inevitable tumble, and to get onto with luggage on the back.
Touring with small bikes is a popular thing, with many riders having circumnavigated the globe on small single cylinder bikes. My wife and I rode 15 500 km from Cape Town to Cairo over 90 days on two 200 cc Chinese pizza delivery bikes. My wife is not the tallest woman on the planet and she loved the fact that she could pick up her own bike after a fall.
Final throughts
Adventure bikes are tall because of the limitations of engineering. If you want it all you have to be tall.
Related questions
So now you know why adventure bikes are so tall. A big reason is to make the bikes comfortable on long distances. There are a few other things that make adventure bikes comfortable. To find out what they are, read THIS ARTICLE.